ShowTouch
For Versions 3.0.0.6 and later
*Note: FTP is not possible with ShowTouch versions 3.0.0.6 and later.
1. In WinScriptLive, go to "Help-->Update Panel Firmware"
2. Select a Show Controller to transfer the firmware to the firmware to. This will then push the Showtouch firmware that's bundled with WinScript to your show controller.
Then, a pop up will appear once WinScript has successfully received the firmware: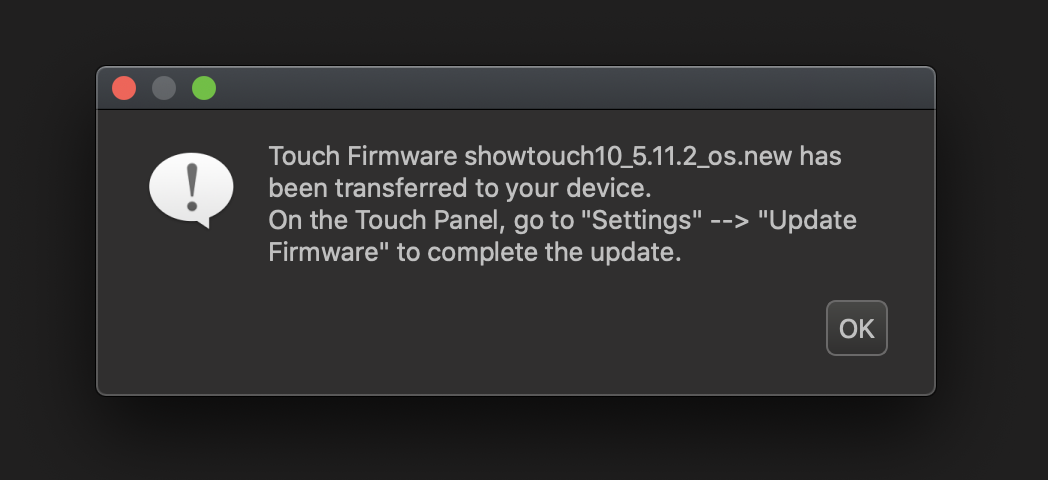 3. Go to the Show Touch physical unit and select "Update Software" from the settings menu. Then, select the show controller you just sent the Showtouch firmware to. Once that's selected, click "Next" and then the firmware will begin downloading and it'll update your ShowTouch device.

For Versions 2.65 and earlier

To Update:
1. connect via FTP to your ShowTouch (user: admin default password: password)
2. copy the appropriate OS.NEW file from:
C:\Program Files (x86)\Alcorn McBride Inc\WinScript Live 4\Touch Firmware
or from http://www.alcorn.com/support/firmware.html
to the root directory using FTP.

3. from the ShowTouch Control Panel select Exit
4. from the ShowTouch Launcher select Update
5. choose the update you would like to use
Note: if you're having trouble sending the files via FTP, try using FileZilla with the settings shown here:
https://alcornmcbride.zendesk.com/entries/39233828-How-can-I-FTP-files-to-Show-Touch-
ShowTouch for PC
Update to the Latest Version of WinScriptLive and Launch "Show Touch" from the "Tools" menu.